A Florida Story performances just one month away – meet Aaron Collins and the SCSO
March 22, 2022
Lorraine and I moved to Vero Beach in March of 2015.  We soon came to love the city.  Founded in 1919, its centennial was scheduled for 2019, and I thought about writing a piece to celebrate those 100 years.  It turns out, plans for the city's celebration were well under way before I came up with the idea.  So, A Florida Story was never going to get a performance in 2019.  After that the pandemic and other factors delayed the performance until now.
This piece is a collaboration.  It needed music, narration and an orchestra.  I talked to Aaron Collins, founder and director of the young Space Coast Symphony Orchestra.  We had worked together before.  I had been commissioned to compose music to accompany a silent film, In a Moment, as part of the Melbourne (Florida) Film Festival.  Aaron conducted the premiere with members of the SCSO.  In 2017 he added Nothing Bitter Suite to the SCSO schedule.  He promised that if I could create the work, the SCSO would find a way to get it performed.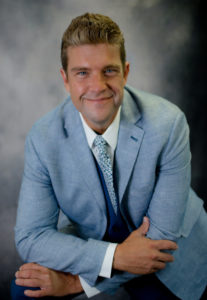 Hailed for his electric conducting and the compelling insight of his musicianship, Aaron Collins continues to attract national attention and is one of the most outstanding American conductors working today. An award-winning composer and conductor, Collins is making his mark in the music world and is recognized for his commitment to creative artistry, innovative programming, leadership, philanthropy, and audience and community engagement.
Collins is also being recognized for his giving and leadership, being the youngest winner of the '4 under 40' award presented by LEAD Brevard and one of Space Coast Business' Most Admired People. In 2016, Collins won the Richard A. Stark Award for cultural leadership from the Cultural Council of Indian River County. Described as "the next big thing," "a man on fire," "one of the most promising conductors working today," "an absolute, powerhouse," Collins maintains a schedule of more than 250 concerts a year.
Since its founding in 2009, the SCSO has presented over seven hundred and fifty concerts throughout Central Florida. Amongst the SCSO's greatest successes is the Symphony for Everyone program which enables anyone to attend any concert, no matter what their current financial situation. This nationally recognized program is the first of its kind. Locally, it has allowed more than 15,000 economically challenged individuals and families to attend a live symphonic concert.
Here are two things to explore:
(29) Space Coast Symphony's Story – YouTube
(29) Music at the Watering Hole: A Virtual Family Concert – YouTube